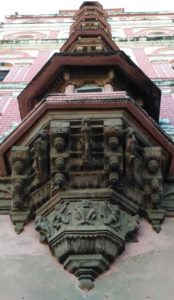 The Tamil University Museum at Thanjavur in the state of Tamil Nadu is an important museum for its storage of the ancient historical objects. It was established in the year 1983 as a multipurpose museum.
Objects that are exhibited in the museum for the visitors to look upon include cultural objects, replicas of Indus Valley, tools of beads, burial urns, inscriptions on stone in Tamil and Marathi, coins, sculptures, bronze images, wood carvings, arms, models of contemporary paintings, Chellinar house, utensils and knives.
In addition to these, there are also objects like swan, leather puppets, Rajasthani lamps, musical instruments, ivory inlay, Paleolithic, Neolithic, replica of Yazhappanam seal and pottery pieces.
Historians, research scholars and general visitors are welcome to visit the museum between 10:30 am to 01.00 pm and 02:30 pm to 05 pm. The museum observes holidays on Saturdays, Sundays and university holidays.
The museum of the Tamil University has a rare collection of Tamil arts, tradition and culture. It provides all the important materials for the research activities on social and historical aspects of the people of Tamil Nadu.