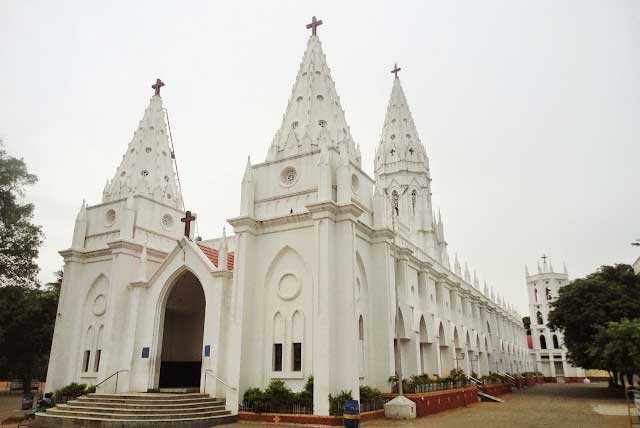 Our Lady of Lourdes Basilica, Poondi, is a Catholic pilgrimage center located in Tamilnadu, South India. Poondi is a small village located near Tirukattupalli in Thiruvaiyaru Taluk (also spelled as Taluka), about 33 km away from Thanjavur.
Poondi is usually associated with Alamelupuram village located besides the Basilica and so is called as Poondi-Alamelupuram, officially.
Poondi is a small hamlet sandwiched between the rivers Cauvery and Coleroon Alamelupuram. Poondi is believed to have got its name from Poondu, a shrub in Tamil, which grew in abundance here earlier. 
The hamlet is significant thanks to the renowned Poondi Madha Shrine (The Shrine of Our Lady of Poondi).
Poondi Madha Shrine is an important pilgrim spot for Roman Catholics and is almost as famous as Velankanni, which is also in Tamilnadu.